NRGkick – more than a Wallbox
Ideal for your home as well as on the go.

With NRGkick your wallbox has moved from your housewall into the charging cable.

Easy operability combined with high performance already convinced thousands of customers throughout Europe. In addition to the top quality of the product, NRGkick provides many optional Smart Feature possibilities.

Due to its flexibility, NRGkick makes every power source accessible for your electric vehicle and gets everything out for you, up to 22 kW* charging power. Designed to give you unlimited flexibility – charge. fast. anywhere.
*only 32A version


Safety: Integrated RCD
With an integrated residual current protection (AC, DC + 6 mA), NRGkick ensures a higher operational safety level compared to other charging devices by permanent surveillance of possible residual current.


Adjustable Charging Current
NRGkick allows to adjust the charging current flexibly at the push of a button. Five different current values can be selected and even more if NRGkick is controlled by a smartphone. In this way you can always utilize the maximum capability of a given socket and, vice versa, the limit for the charged energy can be set.


Applicable Everywhere
Extend your charging possibilities from public charging stations to every household socket. Electricity is everywhere, NRGkick makes it accessible.


Smallest Dimensions
We have done everything to bring down the main dimensions to an absolute minimum. NRGkick is by far the most compact charging unit on the market. By applying modern lightweight technology we have achieved uncompromised usability for everybody.


Up to 22 kW Charging Power*
NRGkick is fully adaptable to the existing standard socket network. You can charge your electric vehicle even at 32 A power sockets with a power of up to 22 kW. Consequently a typical 22 kWh EV battery can be fully charged in one hour.
*only 32A version
Integrated Current Measurement
NRGkick continuously measures current and voltage of all 3 phases. The NRGkick smartphone app evaluates, records and displays the charging process conditions for maximum overview and transparency.


Integrated energy measurement
NRGkick measures and records the amount of energy charged at each charge cycle. The charged amount of energy is stored for the last three operations as well as the total ever charged energy.

CE CONFORMANCE & TÜV APPROVED
NRGkick is developed and produced in Styria, Austria. We put all our emphasis on delivering highest quality. Thus, NRGkick is TÜV-approved and CE-conform.

Bluetooth Connection*
NRGkick can communicate via Bluetooth LE (Low Energy) with any smartphone. Remote control, monitoring and evaluation tools as well as a device lock feature are available in the NRGkick app.
*only if you chose Bluetooth option while ordering


Automatic Adapter Identification
When using NRGkick adapters, the mobile charging unit automatically recognizes its use and limits the charge current to the maximum allowable measure of the adapter. Thus, it is impossible to inadvertently set a too high charging current.


3-Phase Charging
The utilization of all three phases of the standard 400 V power grid is essential for reasonable AC charging times. NRGkick provides that 3-phase capability and can shorten the charging time by a factor of 3 compared to 1-phase charging devices.


Theft-protected and tamper-proof
The automatic Type 2 socket locking mechanism protects your NRGkick against theft during and after the charging process.
In addition, NRGkick provides a comprehensive protection against abusive readjustment of the charging current by passers-by. Even if an unauthorized person interrupts the current supply and causes the NRGkick to reboot, a readjustment of the charging current will only be possible for the owner.

Smartphone App
With your smartphone you can connect over Bluetooth to the NRGkick device and have access to the energy meter values. Energy, power, ampere and voltages will be displayed. Also charging costs and the mileage distance based on the charged energy will be calculated for you. When charging, you can directly modify your charging current in 1 A steps from 6 A to 32 A with the app.

Made in Austria
NRGkick is designed, developed and manufactured in Austria. To provide top quality and performance to our customers is most essential for us.

NRGkick Connect
NRGkick Connect opens new dimensions of mobile charging:

Solar led charging
Access from anywhere via NRGkick cloud
Monthly charging reports
Automatic reporting
Time controlled charging*
Recordings and statistics of charging*
Alexa voice control*
WIFI + Bluetooth
Web-API

*Feature will follow shortly after launch via free software update
Delivery time: 6 work weeks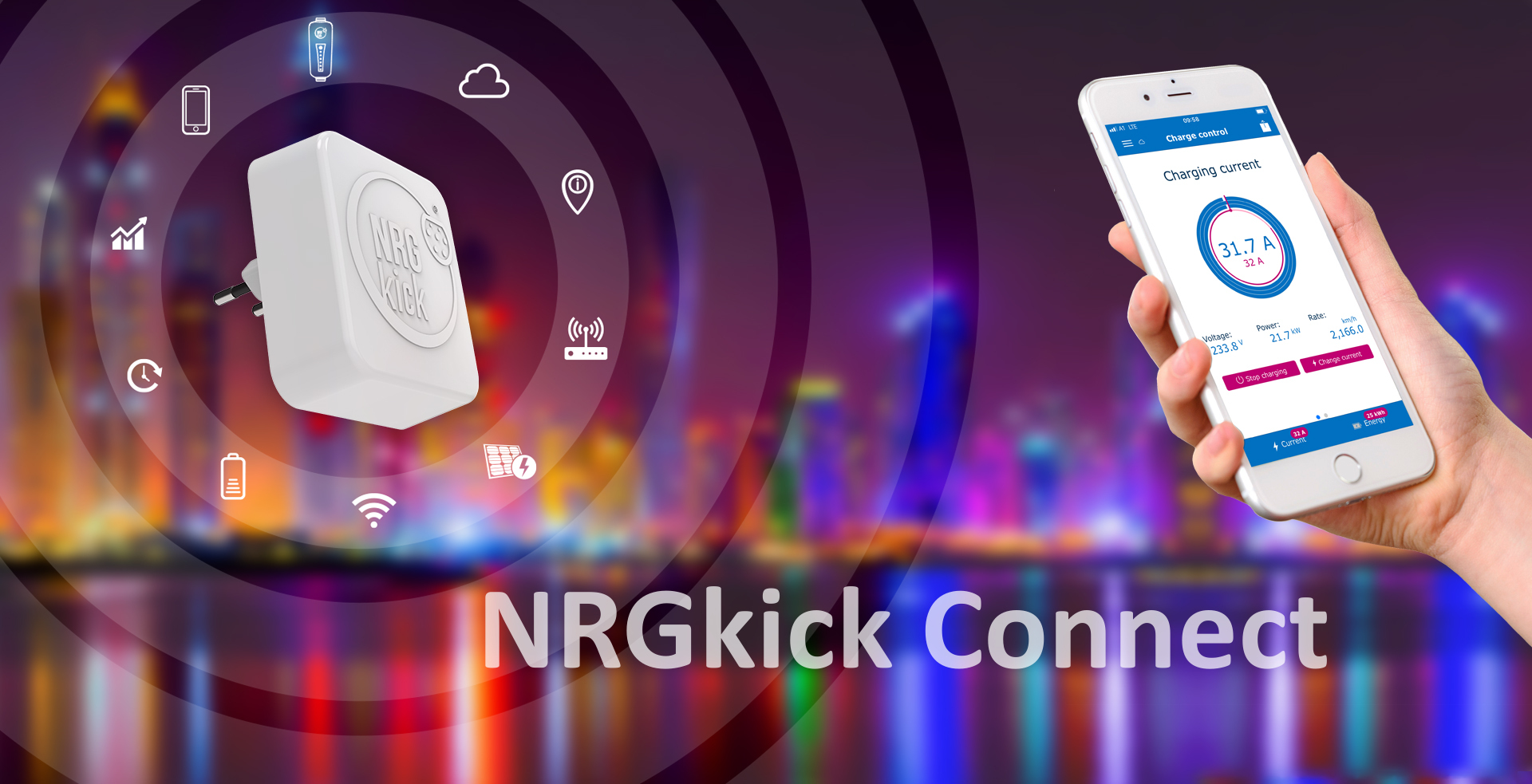 NRGkick 16A or 32A Type 2 mobile EV charging unit with Bluetooth*
Brands NRGkick
Product Code: NRGkick 16-32A
Availability: 2-3 Days

Not sure how to choose charging point?
Or you got lost with all these tricky terms related to electric vehicle charging?
If yes, please click here ...